Reports and Case Studies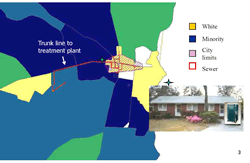 "Mapping Excluded and Underserved Communities to Support Litigation and Advocacy (Presentation)" November, 2008.
We have created reports for a wide variety of clients, such as North Carolina Institute for Minority Economic Development, California's Community Water Center, and the NAACP Legal Defense Fund. See About Us.
We have presented on the topic of institutionalized discrimination in over venues across the United States, to audiences as varied as Cornell University's School of Planning to the Litigation Directors Conference of the National Legal Aid and Defenders Association. See below.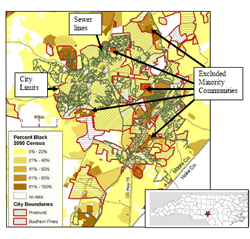 "Southern Moore County Case Study," April, 2005.
Since this study was conducted, grass-roots groups in southern Moore County - representing excluded minority communities - have obtained municipal services and increased awareness of their plight. The Jackson Hamlet neighborhood's advocacy led the town of Pinehurst to provide street lights and water and sewer services, and to pursue annexation of the community, which would allow residents to receive additional municipal services and vote in local elections. Several other neighborhoods have had similar successes, while a few are still struggling.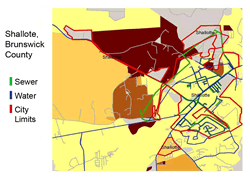 "The Persistence of Political Segregation: Racial Underbounding in North Carolina," October 2004.
The story of Black communities in Small-Town North Carolina, and the consequences of that exclusion, with particular attention paid to communities in and adjacent to Pinehurst, North Carolina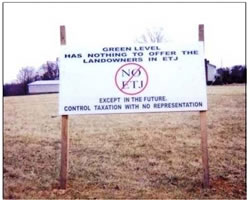 "Incorporation, Annexation and Extra-Territorial Jurisdiction: A Double Standard?" October, 2004.
The story of Black towns that incorporate to retain the identity of Black communities, only to find their struggles continue. A case study focusing on Green Level, Alamance County North Carolina, is included.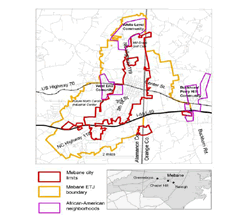 "Addressing Racial Disparities in Local Government Actions: The Mebane Case Study," May, 2003.
An expanded version of the Mebane case study, with color maps.