Expert Witness Work
CCISC provides social science research for community groups and attorneys as expert witnesses and consultants in legal cases. Principals and partners have provided qualitative, quantitative and GIS mapping research and analysis in a wide variety of cases. While current cases can not be discussed until findings are made public, some of our past cases are described below, grouped by subject area.
Affordable Housing and Exclusionary Zoning
MODESTO, CA
FLOWER MOUND, TX
NAPA, CA

Jury Awards Developer $1 Million in Federal Fair Housing Act Case
On July 2, 2010, a federal jury awarded $1 million to The Anderson Group, an Albany, New York developer that had sought to build a development that included 60 units affordable to low- and moderate-income families. Read more.
[You may need to turn off pop-up blocker in order to view external links]
Greater New Orleans Fair Housing Action Center and Provident Realty v. St. Bernard Parish
To read press coverage of the case, click on the link below:
"Housing Battle Reveals Post-Katrina Tensions" The New York Times (October 3, 2009).
Redevelopment and Relocation
Between 1950 and 2004, the City of Portsmouth, VA, spent well over $100 million in HUD Community Development Block Grant (CDBG) funds to redevelop African American neighborhoods, denying residents relocation expenses. All HUD Rehabilitation funds were channeled to White neighborhoods. The case was prosecuted by the Lawyers Committee for Civil Rights Under Law, and CGISC principal Ann Moss Joyner and historian/anthropologist Carolyn Christman served as legal consultants for the Plaintiffs. Sorting through 23 boxes of materials, they "followed the money" to demonstrate the inequities in the City's treatment of the Black and White neighborhoods.
In 2008, the City still held more hundreds of vacant lots they had obtained with HUD redevelopment funds, bulldozing the homes. The case resulted in a $1.8 million settlement for displaced residents and the establishment of a fair housing center in a nearby Virginia city. Follow this link to view a brief presentation illustrating patterns of discrimination uncovered by Joyner and Christman's research.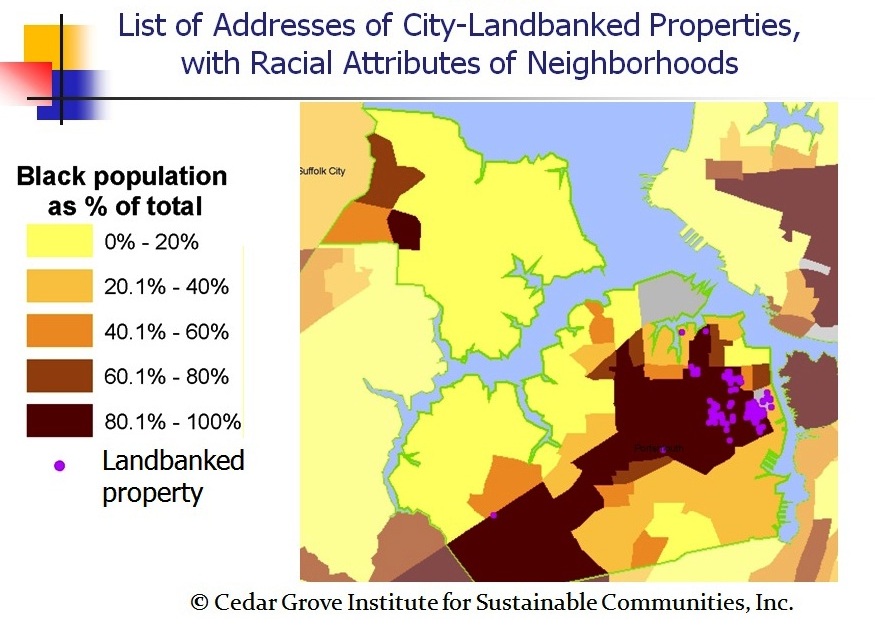 Portsmouth landbanked land it acquired through redevelopment program targeting African American neighborhoods.
Code Enforcement Abuse
Local governments sometimes abuse their code enforcement powers to "soften up" residents and home values prior to taking properties through eminent domain (see Lucinda Pitt et al. v. City of Portsmouth et al., Case No.: 2:02cv489) and to eliminate residents and/or land uses that they consider undesirable (see Manuel et al v. The City of Lake Worth, Florida, Case Number: 9:06-cv-81143, USDC S.D. Fla.).
Lucinda Pitt et al. v. City of Portsmouth et al.:

The City has a long history of using Code Enforcement to selectively target properties inhabited by African Americans, so that those properties can be condemned and then acquired by the city or otherwise made available for private redevelopment. The City, its Housing Authority, and private developers saw code enforcement as a tool for assembling small parcels into large tracks of land suitable for redevelopment, defining "code enforcement project boundaries" for this purpose. In addition, using Code Enforcement, the City could close an entire groups of rental properties down or make it unprofitable, so that the owners will be more likely to sell at a more "reasonable" price or, failing that, condemnation will be easier.

The City of Portsmouth, Virginia, undertook a prolonged effort to redevelop Fairwood Homes, a dilapidated affordable housing community of 1,500 rental homes. Fairwood Homes had been purchased by a large developer of affordable housing with the intent to replace all units with new affordable housing. The City's campaign was counter to the wishes of the new owners. In its effort to redevelop the affordable housing subdivision, the City told the development's owners, when it optioned the property in 1997, that it would forgo city code enforcement. (For example, between 1999 to July 2000, the City alleged approximately 262 incidences of code violations — 96% for weeds and debris.)

Over the next 17 years, the City attempted to convince the owners to replace the low-income African American tenantǎs homes with an office park. In that effort, the City abruptly stopped referring potential tenants needing affordable housing and refused to inspect a single residence for turnover to a new low-income tenant [Cross-Claim by Portsmouth Partners against the City of Portsmouth April 2003]. The City purchased approximately half of the original 300-acre site but declined to exercise its right to purchase the remaining property. The City then rezoned the remaining property, requiring City Council approval for almost any redevelopment.

Subsequently, the neighborhood was beset with deterioration, neglect, arson and other crimes. According to the Virginia Pilot, between 1980 and 2000, 22 residents of the aging, wood-frame houses of Fairwood Homes died in house fires. "When 7-year-old Kenetra Watkins perished in a raging fire last month, she became the 22nd person to die in a house fire in Fairwood Homes since 1980," (Bryant, 9/7/2000). After the local newspaper carried a series of investigative articles regarding these issues and the lack of code enforcement,the City condemned approximately 104 of the remaining 830 units in May 2001. A month later, the City suddenly utilized rigid code enforcement, issuing 4,964 citations of alleged violations of code. The City refused to allow the owners to re-rent any of the condemned units until all of the code violations were remedied. Because the City had held the owner's plans to replace the affordable housing in limbo for over 17 years, the owners refused to make the necessary repairs, choosing instead to evict all of the remaining residents.

Residents were given 30 days to vacate their homes, and received a disclaimer from the City,blaming the owners. The letter listed services available to help residents &emdash; all located in other cities &emdash; and contact information for the homeless shelter Residents contacted The Lawyers' Committee for Civil Rights Under Law, and a suit was filed against the City.

CGISC was hired to study the City's "pattern and practice" of racial discrimination.

"In connection with our retention of expert witnesses who opined on the nature and scope of racism in Portsmouth, Virginia, spanning over half of a century, our team of attorneys retained Cedar Grove Institute and Ann Moss Joyner. Ms. Joyner and her team were invaluable to our successful outcome. She provided thorough research, comprehensive economic analysis and Geographic Information Systems (GIS) technical support. Their research was meticulous and showed initiative and a thorough understanding of what was needed, and their reports were well-formatted, and well-edited." - Allyson B. Baker, Pitt v. City of Portsmouth, et al. when working for Heller Ehrman LLP with the Lawyers' Committee for Civil Rights Under Law, 2004.

Manuel et al v. The City of Lake Worth, Florida:

"This is an important victory for immigrant households in South Florida, particularly so for the area's Guatemalan Mayan community. We hope that this case sends a strong message that selective code enforcement must not be tolerated[,]" said Lisa Carmona, Senior Attorney with the Florida Equal Justice Center, one of the plaintiffs' counsel. Allan Parnell of The Cedar Grove Institute for Sustainable Communities, Inc. "...worked with the plaintiffs and their attorneys to help them establish the City's discriminatory targeting through data analysis and mapping."

See attorney Mona Tawatao's article describing the settlement from Legal Services of Northern California's Race Equity Project.
Unequal Service Provision
"On Thursday, July 10, 2008 a federal court jury returned verdicts totaling nearly $11 million against the City of Zanesville, Ohio, Muskingum County, Ohio, and the East Muskingum Water Authority for illegally denying water service to a predominately African-American community on the basis of race. The sixty-seven plaintiffs in the case had alleged that the City of Zanesville, Muskingum County, and the East Muskingum Water Authority refused to provide them public water service for over fifty years because they live in Coal Run, the one predominately African-American neighborhood in a virtually all-white county."

To read more about this case and/or watch a video about this case, see Kennedy V. City of Zanesville.
School Segregation
Under the pretext of fostering neighborhood schools, the school system of Wayne County, NC has created six attendance areas. One of these feeds a single low-performing high school, and that school is 99% minority and 86% economically disadvantaged. Assisted by CGISC's GIS consultant Dr. Ben Marsh, CGISC principal Ann Moss Joyner analyzed Wayne County's attendance areas and demonstrated that school systems can end school segregation in a manner consistent with the Supreme Court's June 2007 findings, while also maintaining neighborhood schools. Their case study was published in Interactions, the UCLA Journal of Education and Information Studies. Their report was subsequently used by the North Carolina NAACP as the basis of a Title VI Complaint, which is currently being investigated by the Office of Civil Rights of the U.S. Department of Education and by the U.S. Justice Department.