About Us
Background: Cedar Grove Institute for Sustainable Communities grew out of the work we were doing in our for-profit company, McMillan and Moss Research, Inc. Our research and analyses were being called for in cases involving civil rights, predatory lending, segregation in schools, institutionalized discrimination and community economic development. While we were drawn to this kind of work and attorneys realized the value of what we had to offer, many funders could not hire us through our for-profit company. In order to pursue our new mission, we formed CGISC in 2000 as a 501(c)3 non-profit.
Funders: We have since received funding from Z. Smith Reynolds Foundation, the Fund for Southern Communities, Warner Foundation, the Racial Justice Collaborative, the Paul Green Foundation, Poverty and Race Research Action Council (PRRAC), NAACP, NAACP Legal Defense and Educational Fund, Reidsville Area Foundation and Community Water Center of California. We have also received strong support from other groups who share our goals. In March of 2004, we received an award of appreciation from the N.C. Fair Housing Center. In the fall of 2004, our work on fighting institutionalized discrimination was the focus of the annual conference of the Center for Civil Rights at the University of North Carolina at Chapel Hill. In 2009, CGISC was featured in the January/February edition of Miller McCune (now Pacific Standard), a journal which provides a unique perspective and insight into social, political, and economic forces, with an emphasis on fact-based, research-driven content.
Clients: We have conducted research for
National Institutes of Health, Health Resources and Services Administration
Institute for Minority Economic Development
Wake County, NC
Chatham County, NC
Great Schools in Wake
Stella Adams Fair Housing
New Hill Community Association
The Center for Civil Rights at the University of North Carolina at Chapel Hill
Relman, Dane and Colfax, PLLC
Inclusive Communities Project
Central Piedmont Community College
James Sprunt Community College
Common Cause of North Carolina
California Rural Legal Assistance
Lawyers Committee for Civil Rights
Miami Valley Fair Housing Center
North Carolina A&T State University
Fair Housing South Carolina
Leading Age North Carolina
Miller Coors LLC
among others.
Serving as expert legal consultants and expert witnesses, we have conducted research and testified in legal cases across the United States. Legal clients have included the Capital Defender's Office of Atlanta, GA; The Lawyers' Committee for Civil Rights Under Law; Relman, Dane & Colfax, PLLC, of Washington, DC; Inclusive Communities Project of Dallas, Texas; The Anderson Group of Albany, NY; California Rural Legal Assistance of San Francisco, CA; Brancart & Brancart of Loma Mar, CA; Richards Law Firm; Florida Equal Justice Center; Florida Legal Services; and Legal Aid Society of Palm Beach County. For a listing of past legal cases, see Expert Witness Work.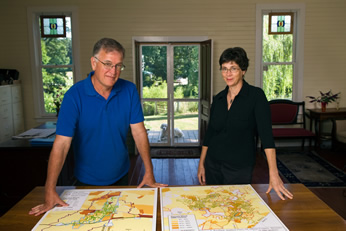 Parnell and Joyner in their office, a renovated Primitive Baptist church, circa 1900, moved to their farm and restored.
Our Employees:
President:
Ann Joyner, MBA
ann@mcmoss.org
Vice President:
Allan Parnell, PhD
allanmparnell@gmail.com
Program Coordinator:
Carolyn Christman, MA
chris@mcmoss.org
Administrative Services:
Louise Tate
GIS Consultants:
Ben Marsh,PhD, Professor of Geography and Environmental Studies, Bucknell University
Greg Dobson, PhD, National Environmental Modeling and Analysis Center, University of North Carolina at Asheville.

Tim Stallmann, Independent Cartographer and PhD Candidate, University of North Carolina at Chapel Hill